Per Harald Sivesind - Dunker hound
Interview by Sabine Middelhaufe
Per Harald Sivesind has been active on the board of his local hare-hound club for the last 12 years and was it's chairman for 6 years. He also is a judge in hound trials since 1993 and Secretary of the Norwegian Dunker breeding council since 2003. Pretty much all his spare time is dedicated to Dunker-hound or hare-hound work and, of course, he is a breeder of this great hound in his own Kennel Sivesindhøgda.
Since when are you interested in this breed and why did you choose it in the beginning?

From the middle of the 1970's on my father had two female Dunker-hounds, so I grew up with Dunkers. I found these dogs very fascinating, and I think it's a beautiful breed with their calm, expressive and dark eyes. The Dunker is an excellent hunter, and a first class family dog.
I got my first own Dunker in 1993.
Would you explain the characteristics of the breed for which a potential owner (sportsman) might prefer this breed to others?

As I said, the Dunker-hounds are excellent hare hunters. They search the area quickly and thoroughly, and find the game (hare) easily. They are independent and endurant, but also very calm and friendly, with strong nerves and easy to handle in the non-hunting season. You hardly notice that a Dunker is in the house.
I find them easy to specialise on hunting only hare and not try to go after deer and/or moose (which they are not allowed to hunt).
When a Dunker-hound hunts hare in the hills, it's the most beautiful concert you can imagine. The clear sounds from the Dunker's voice beat any kind of music.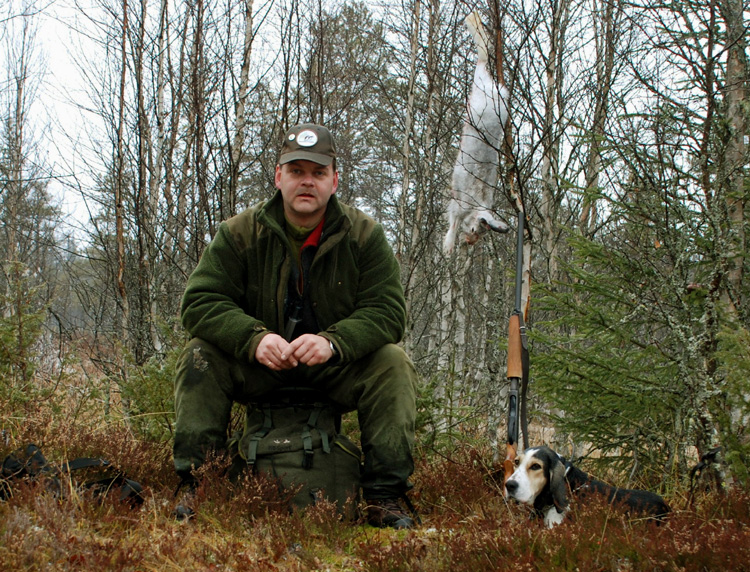 Per Harald Sivesind with Klinge II. Titelphoto: Gjall demonstrating the efficient movement of a Dunker
In your opinion, is there any specific characteristic of the breed that sportsmen nowadays don't appreciate enough?

Everyone who owns a Dunker, I believe, appreciates the breed and their characteristics, and the Dunker is well known among hare hunters in Norway.
Almost every European hare-hound breed is present in Norway, but there are too few hunters for them. All the Scandinavian breeds (Dunker-hound, Hygen-hound, Haldenstøver, Hamiltonstøver, Schillerstøver, Smålandsstøver, Finsk støver/Finnenbracke) have more or less similar characteristics, so for some sportsmen it might be a bit of a coincidence which breed they like best.
The Swiss hounds are also quite popular in Norway. I've been a judge on hunting tests since 1993, and I've had the pleasure to see and hear most of the Scandinavian and Swiss breeds hunting.
In Finland they have been more successful in taking care of their own breed, the Finnenbracke, than we have been in Norway with Dunker-hound, Hygen-hound and Haldenstøver. Luckily, the Norwegian breeds became more and more popular during the last few years.
My brother bought his first Dunker last year. Before that he had had Finnenbracke and Hamiltonstøver (from Sweden). All these hounds were good representatives of their breed and had very good hunting skills. He was quite satisfied with all of them. But none of them beats his satisfaction with his new Dunker. The calmest dog he ever owned, and the hunting skills where early developed. I believe that his next hare-hound will again be a Dunker.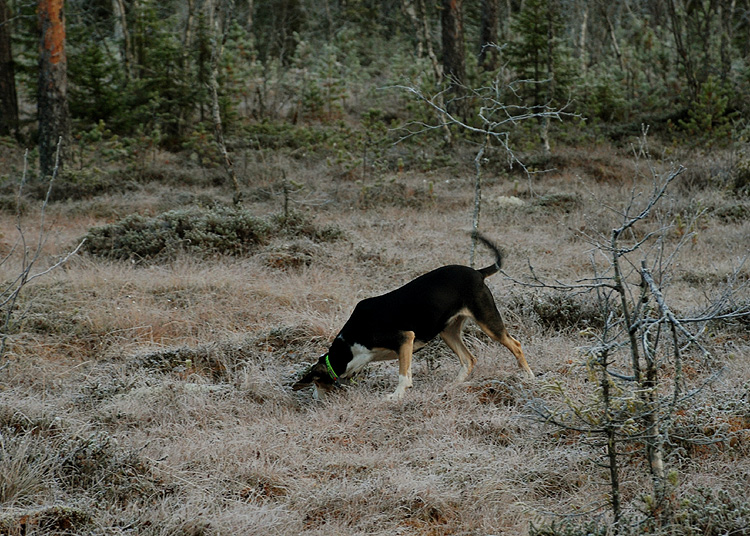 Dunker Klinge II in action
Which characteristics does a "good" representative of the breed absolutely has to have to be indeed called "good"?

The hunting skills are important. A good Dunker will find the game (hare) easily if there is one in the area, and follow its track. A correctly built Dunker moves very effectively.
The requirement for a 1. price (very good) on a working trial (hunting test) in Norway is 120 minutes "los-time" (*, 2. price (good) between 90 – 119 minutes and a 3. price (sufficient) 60 – 89 minutes.
(*in Norway we have adopted the German word: "los", which we use when the dog follows the track of the game and barks.) The other main characteristics of the dunker-hound are their calm, friendliness, expressive dark eyes and good nerves.
The general appearance of dunker has to be medium sized, distinctly rectangular, powerfully built, but should not appear heavy. They should convey the impression of endurance. Depth of brisket should be approximately half the heights at withers. A Dunker-hound must not appear "high".
So, a good representative has to have the hunting qualities, the look of a Dunker and be calm and friendly.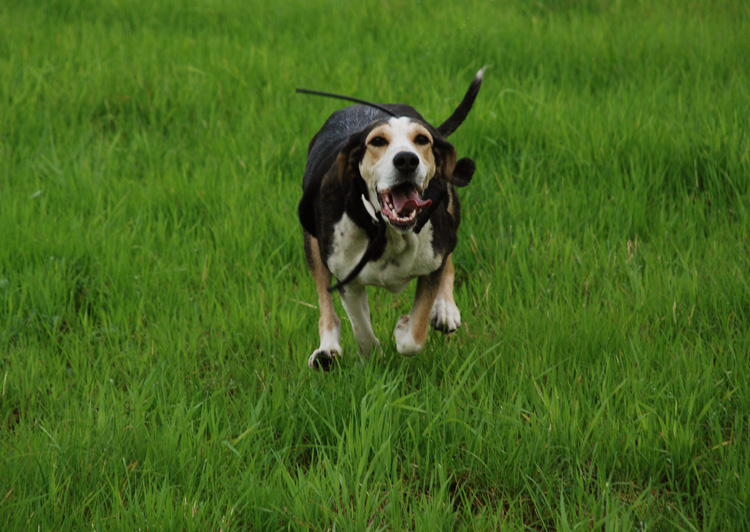 "Speedy Dunker". The black stripes around the collar are the antenna of the "dogfinder", that hounds in Norway wear because of the wolf risk.
How do you see the situation of the breed in your country, and if you had the power, is there something you would like to change in the present day way of breeding?

The Dunker is a breed relatively small in numbers, and the main population is in Norway. There are some Dunkers in Sweden and a few in Greece, Poland and the USA. The interest in Dunkers here in Norway is quite good, but of course I would prefer that it was even better. For the last 10 years, approximately 20 litters and about 150 puppies a year were born. In 2009 there where 24 litters, and 209 pups.
Back in the 1970's approximately 700 puppies a year were born. My dream is that the Dunker will again become the leading hare-hound in Norway. The main competitor is the Finnenbracke.
The Dunker as a breed is quite healthy, and the hunting qualities are excellent, standards have been raised during the past 10 – 20 years. The main challenge here in Norway is that there are fewer and fewer sportsmen who go hare hunting and buy their own dog.
And then Beagle and Drever (Swedish breed) are getting ever more popular among hunters. These breeds can be used hunting both hare and deer, and of course fox.
But the Dunker is adaptive to his environment. 2 or 3 Dunkers have been sold to Greece in the last few years. We thought that a breed that is fit for the Scandinavian climate, with temperatures between +15°C and -15°C in the hunting season, would have problems in the warmth and the dusty terrains in Greece, but instead they hunt excellently even there and have earned themselves a good reputation in Greece, with the result that we received some requests from potentials buyers in Greece in 2010.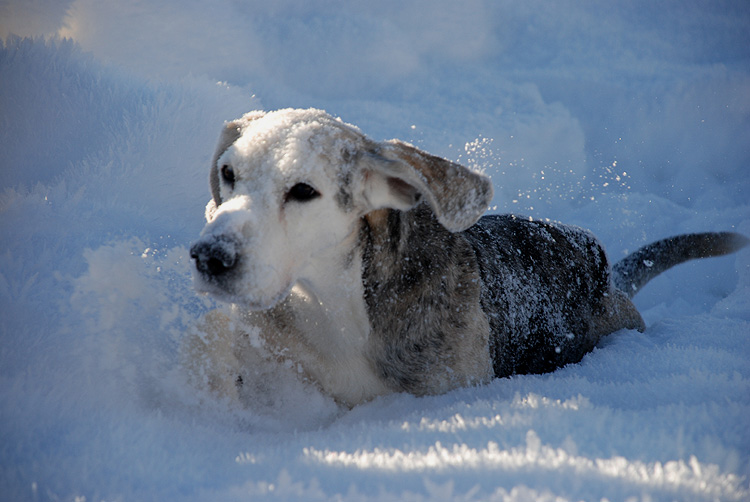 Though the Dunker was essentially created for the Norwegian climate he adapts easily even to the Mediterranean reality.
In your opinion, are the breed and their characteristics known well enough to potential owners (sportsmen) or is more information and promotion needed?

The Dunker is well known here in Norway. But of course, everyone can try harder to recommend the breed to more sportsmen. Unfortunately, a lot of hunters don't find dog-shows very interesting. They only want to use their hare-hound for hunting reasons. This is not just a Dunker problem, but concerns generally all hare-hound breeds in Norway.
When I participate in dog-shows, there are a lot of people who make contact, and have their own story about the Dunker.
The Norwegian Kennel Club (NKK), The Norwegian Hunting- and Fishing Federation (NJFF) and The Norwegian Hare-Hound Federation (NHKF) have, this year (2010), started a new project, Norwegian Hare-hunt (Norsk Harejakt), to promote the Norwegian hare-hound breeds and the hare-hunt. Hopefully, there will be more potential dunker owners in the next couple of years. The dunker breed club, Dunker-ringen, is participating in this project together with other breed clubs.
By the way, last year (2009) the European Championship took place in Italy, and a Dunker from Norway became 5th. This is quite satisfying in a temperature of +25°C to +30°C.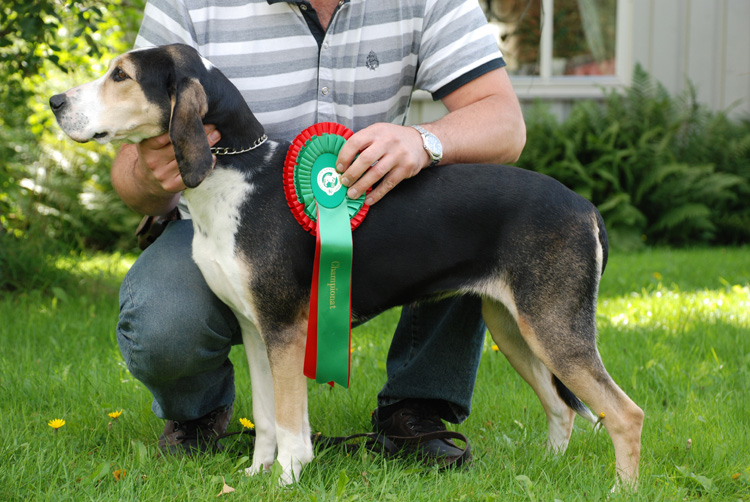 Champion Klinge II.
Do you personally find it important to partecipate in dog shows, working trials and club events?

Yes, I find it important to participate in relevant fairs, dog-shows and working trials (hunting trials). The best way to demonstrate and promote the breed's qualities and show that the breeders are doing a good job, is by going to dog-shows and working trials, and of course prove the breed's health status.
On dog-shows you can also promote the breed to a wider audience, and you can see if the hounds still look like Dunkers, or if the breeding is taking a "wrong turn".
On working trials you test the hunting qualities, and obviously it's important for a hare-hound (and its owner) that the hunting qualities are good. Therefore it's important that as many of our hounds as possible participate in trials, so that the breed's benefits are verified.
Around 35 new Dunkers each year (of 150 born), receive a price in a working trial/ hunting test. Approximately 10 -12 each year become hunting champions.
Dunker, "Finnenbracke" and Hamiltonstøver are the leading hare-hound breeds on working trials in Norway, and between 65 – 70% of the hounds that start on hunting tests, fulfil the requirements and receive a price.

According to your judgement, for what kind of hunting and for which species of game is the breed particularly qualified?

The Dunker-hound is specialised in hunting hare, but can also be used in hunting fox. Earlier they where also used in hunting lynx, but that isn't very common these days in Norway.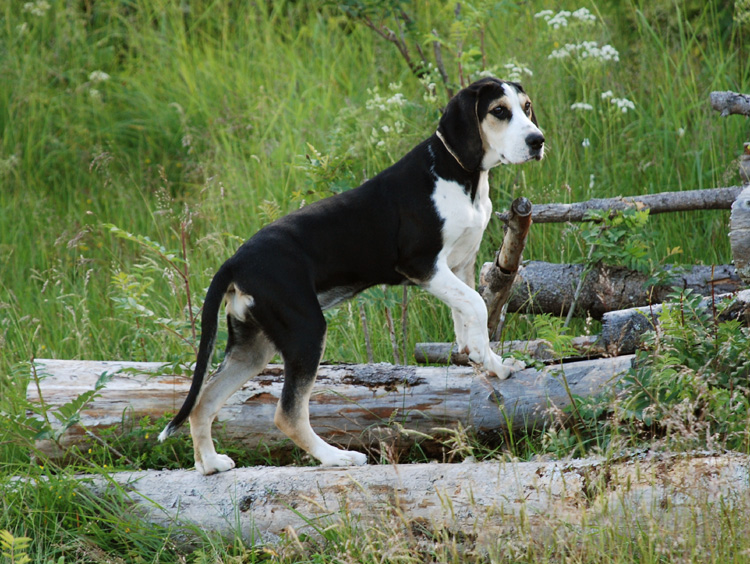 4 months old Dunker pup.
And, last question: what advice would you give someone who wishes to use this breed for hunting for the first time?

The hare-hunting in Norway, Sweden and Finland is probably a bit different than elsewhere in Europe. There are larger areas of forests here, and we prefer that the dog searches the territory on his own for 10 – 30 minutes. In other parts of Europe (I've been told) they prefer that the dog keeps closer contact with the owner, and doesn't search over a wider area by himself. In central Europe a pack of hounds is commonly used, but not in Scandinavia where the dog works alone.
So my comments are based on the Norwegian way of hunting, but as I've mentioned earlier, the Dunker is adaptive to his environment (see Greece where they want to have the dog close by).
An important issue before you begin hunting with the Dunker is his obedience. You have to ensure the basic obedience before you start hunting with the dog, because his hunting instincts are strong.
Find an area where you know the game (hare) is present.
You have to spend many hours in the forest, and a main point is to be patient.
In the beginning, though, don't spend all day outside. The experience for the dog should be: "This is fun. I want to do this again". Step by step, the dog will feel safe, and explore a wider area. You have to be patient, and let him explore the environment in his own speed. This way the trust between dog and owner will gradually grow.
Eventually the dog will find a trace of the game (hare), and his instincts will tell him to follow and find the game. When the dog has been successful in finding the hare a few times, and manages to follow the scent (*los) for a while, he will be more confident and his skills will soon improve. In the beginning, be supportive when he looses the scent. Soon he will manage himself to find the game again.
Depending on how many hours you have available to hunt, you'll sooner or later get a "good" hare-hound. I find it preferable to go hunting 2 – 4 times a week in the hunting season, and spend 5 – 8 hours a day in the hunting area with a grown-up dog.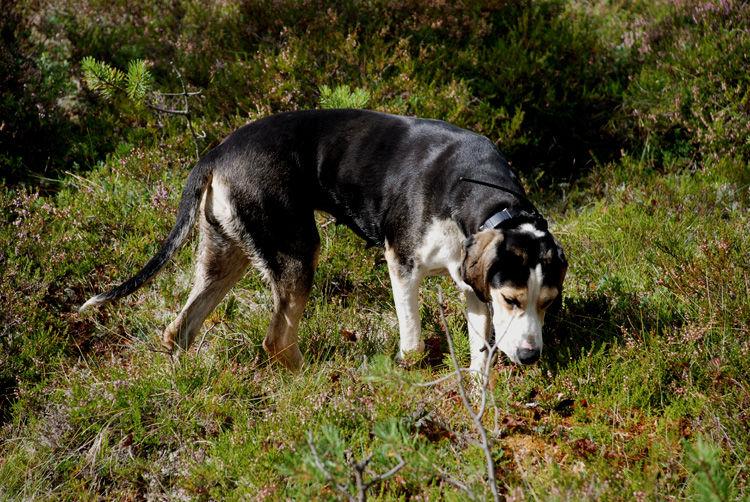 Klinge II on the track.