The Portuguese Pointer (Perdigueiro Português) in the USA
Interview to Doug and Elizabeth Dow by Sabine Middelhaufe
When did the first Perdigueiri arrive in the USA?
The Perdigueiri have been in the US for a long time, in small numbers, as there are many Portuguese living here who would return home from a trip to Portugal with one or two dogs for their personal use as hunters. There is a large population of Portuguese in the northeastern United States where they worked in the fishing industry. Some of the dogs imported by these people were bred and given or sold to friends who hunted. The first registered pair arrived in 1995 and were acquired by John Antunes of Naugatuck, Connecticut, who registered the dogs with the United Kennel Club and then translated the breed standard. These two dogs were Manso de Arganil and Nancy de Arganil.
Mr. Antunes bred this pair twice, then gave them to a show kennel, where they were bred again several times. Their offspring were mainly sold as pets, although a few went to hunting homes.
My first male, Whipporwill's Hocus Pocus is a Manso/Nancy son and was purchased a pet, hunter, and show dog.
Do you recall which Kennels the other first registered dogs came from?

From the de Arganil, Torres, and Vale Carro Kennels.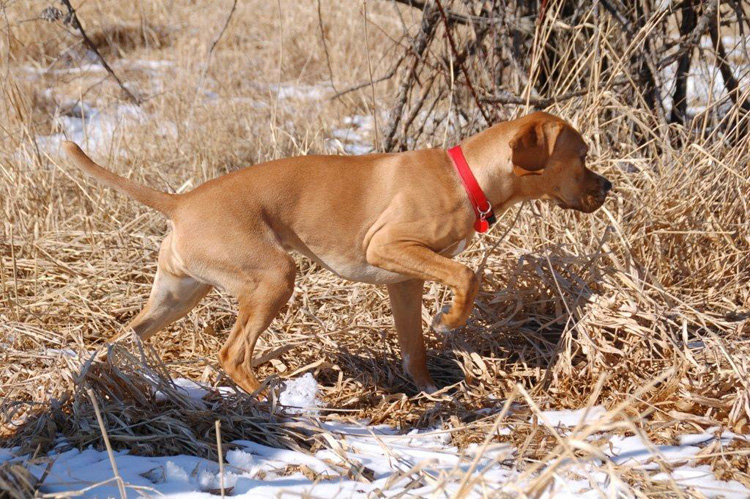 Above: Evita De Agua Limpa.
Titelphoto: Vera Do Solar Do Jamor retrieving.
How many Perdigueiri do live in the US at present?
There are hundreds registered, but the exact amount is not known. The United Kennel Club does not release that information, and many people acquire a dog but never register it. The AKC Foundation Stock Services has less than 100 registered.
And how many pups are born per year?
The number of pups born per year in the United States is increasing, but without access to registry records it is impossible to know the precise numbers.
What is it, you think, that attracts people to the Perdigueiro initially?
People like something "unusual". Plus the Perdigueiro is a beautiful dog, easy to train, and makes a wonderful family pet.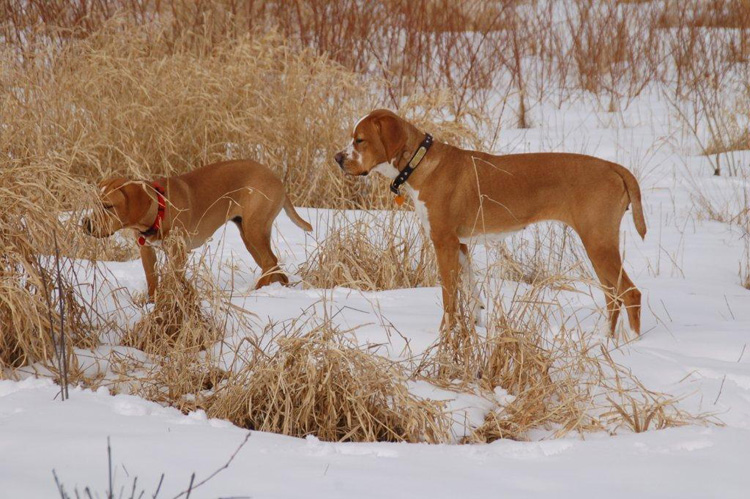 Vera & Evita...
..oops!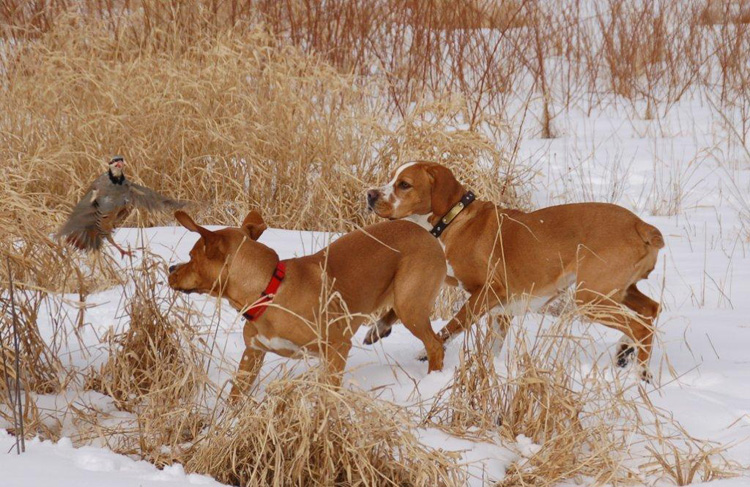 When people buy a Perdigueiro what do they hope for and what might be reason for disappointment?
I think when people buy a dog, they expect it to conform to their reasons for buying it - be it a pet, a hunter, or show dog. I know of hunters who were disappointed in their dog as that particular dog's hunting ability did not live up to expectations. For example, our first Perdigueiro was imported from Portugal in 1997 as a hunting dog, but she had no ability whatsoever. She was then given to us as a pet by her previous owner. I also know of people who had health issues with dogs they purchased.
Has the breed been recognized by the AKC yet?
The American Kennel Club has granted Foundation Stock Services (FSS). This means that the Perdigueiro can compete in performance events (obedience, agility etc.) and hunting, but not in conformation shows. FSS status was granted in 2006. The AKC is keeping the studbook and pedigrees on file, but there are not yet enough dogs to grant conformation privileges and therefore full recognition.
Although the AKC is the best know registry, the United Kennel Club is actually the oldest dog registry in America and that is where we show our dogs. The UKC allowed the Perdigueiro to be registered in 1998, and gave the breed conformation show privileges in 2004.
In addition to the UKC and AKC, in America there are several smaller dog show organizations that allow all breeds to compete in conformation. (While there are about 400 breeds of dogs throughout the world, the AKC recognizes about 180 breeds.) The best known are the American Rare Breed Association and the North American Kennel Club (note: the NAKC is not the better known AKC and has no relation to the AKC). Prior to 2004, these "rare breed shows" were the only choices available to Perdigueiro owners who wanted to show dogs.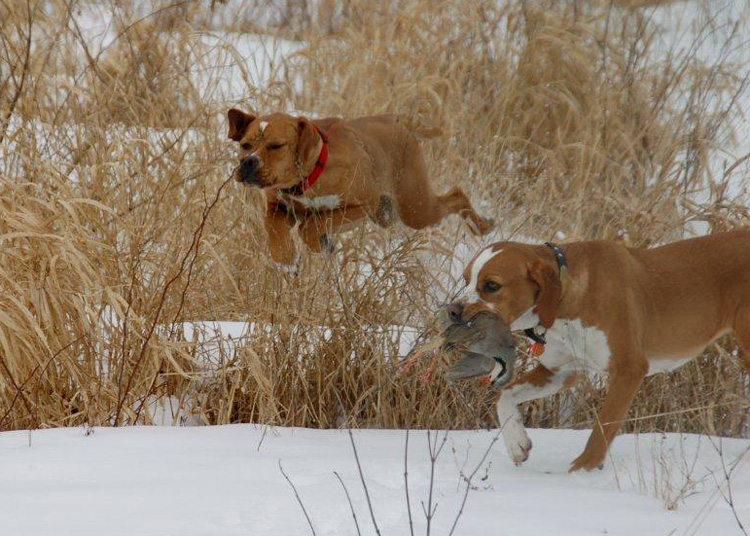 Retrieving
When was the Perdigueiro Club founded?
The Portuguese Pointer Club of America was originally founded in 2003 by John Antunes and Susan Corrone (Whipporwill Kennels). It became a recognized United Kennel Club breed club in 2004.
Since the AKC doesn't recognize the Perdigueiro, on what kind of regulations is the breeding based in the USA?
There are no breeding regulations in America. As the Perdigueiro is still a very rare breed, the majority (with one or two exceptions) seem to breed on the basis of availability. There are no laws or rules that require health testing. There is also one hunting breeding kennel that breeds on field performance only.
Is the Perdigueiro mostly kept as a family pet or as a working dog in the US?
At the present time, the vast majority are kept as family pets. There are several kennels who breed hunting dogs, and sell to both, hunters and families as pets; there is one known "Show Only" kennel, and there are people like us who keep them as companions first, actively train and hunt, Field Trial, and show occasionally.
Pointing the Portuguese way...
Are Perdigueiri often present at dog shows? And what do American judges make of a breed relatively unknown in the States?
At the current time, only 3 Perdigueiro owners exhibit dogs at conformation shows. To my knowledge, only 6 Perdigueiro owners compete in hunt tests. Judges are very eager to examine a breed that is new to them. We have had judges do a physical exam at hunt tests (which in not a requirement) because they wanted to put hands on and learn about the breed. This enthusiasm is welcomed.
At conformation shows, I have had a mixture of judges who were eager to examine and learn about the new breed (a breed standard is available to them), and also the bad experience of judges not knowing what they are looking at and obviously guessing.
And what about working trials?
The Perdigueiri are hunt test/field trailed with the other Pointing Breeds. In most cases the PP is similar to other versatile breeds and is not at a disadvantage. Most judges are more interested in learning about a new breed than comparing it to known breeds.
You have been to Portugal and seen the breed hunting. What could you tell us about the differences and similarities of working Perdigueiri in the US and Portugal?
Yes, I have been to Portugal and observed the hunting there. The Portuguese tend to be more relaxed and tradition oriented. In the United States, hunting with dogs seems to take two rather distinct forms. One form is when people use dogs to find game and don't care how the dog performs as long as game is produced. This would be 75% of the people who hunt with dogs. The other 25% are constantly trying to improve their dogs and spend a tremendous amount of time and effort working with their dogs.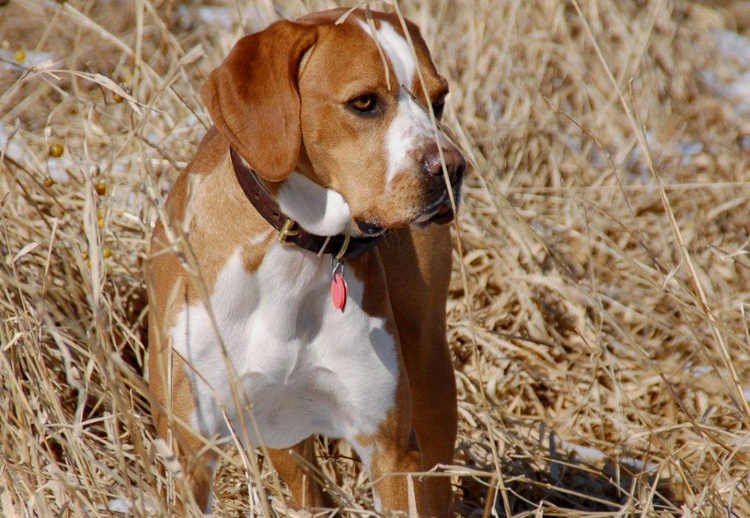 Vera Do Solar Do Jamor.
Some breeds who were brought to the US have been altered so much from the original, that they actually became new breeds, for instance the American Cocker Spaniel, the American Water Spaniel, the German Shorthaired Pointer. Do you think it possible that one day there will by an American Perdigueiro, perhaps more adapted to the needs and wishes of American owners?
I fear this very much. When a new breed becomes popular it tends to get overbred very quickly by those not zealous in protecting the breed. When the day comes and the Perdigueiro has enough numbers to be shown AKC, this is a real possibility. For example, if a large dark dog with pretty white markings is currently winning in the show ring, then the other breeders will exhibit large dark dogs as that is what they see the judges prefer. On the hunt side, if an out of standard dog (too larger, incorrect color) excels in the hunt tests, that dog would be bred to keep producing outstanding field dogs. Once the new breed gets attention, there are many puppy buyers who will purchase a puppy from the closest source, whether it be a kennel, individual breeder, pet shop or an internet on-line seller and not understand the importance of educating themselves about the breed and health issues. And of course it follows that when there is a demand for a new breed, pups will be produced to satisfy the demand.

As sportsmen, how would you compare the Perdigueiro to other gun dogs you've known well, as far as training and working them is concerned?
As an active hunter, I find they have good natural ability, but are close working dogs and not necessarily suited for hunting larger areas where the hunters travel on horseback. I have found them easy to train and eager to learn and please. These dogs do not do well as kennel dogs and require a lot of affection and attention. They do not respond well to harsh training methods and require one-on-one attention.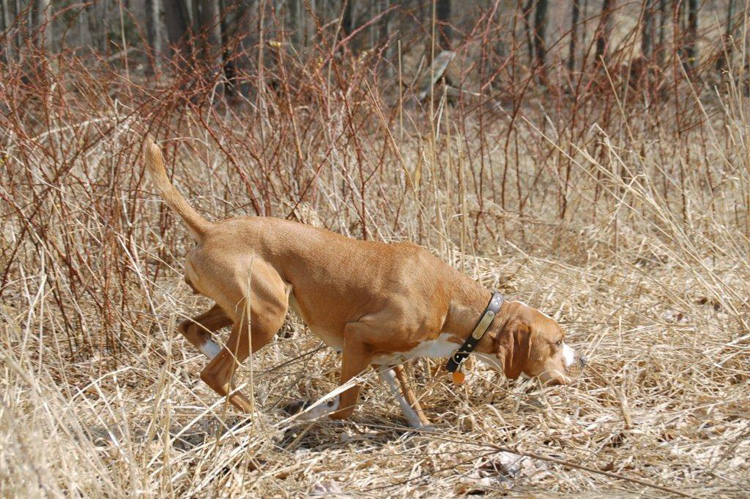 Vera at work .
And finally: if you had three wishes for the Perdigueiro in America what would they be?
First, that all breeders would health test their dogs.
Second, that no dogs would be sold into kennel environments where they would be used for breeding stock on a for profit basis.
Third, that all Perdigueiri would be family members first and have the opportunity to hunt and develop their natural abilities.
Thank you very much Elizabeth and Doug.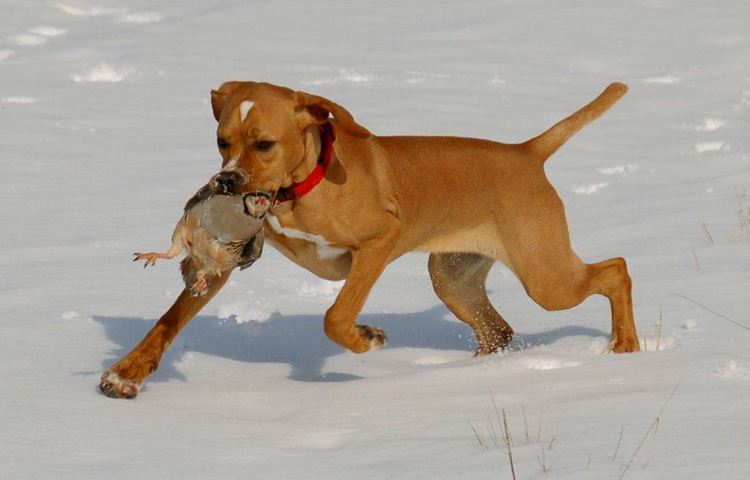 "Chukar passion".