The Bracco Italiano in Canada
By Jack Hague
I am a judge with the North American Versatile Hunting Dog Association (NAVHDA) which assesses the field and water work of all pointing breeds in North American to an established standard.
Now, how did that make me a Bracco owner in Canada?
Well, truth be told it was my wife who in the 80ies wanted a long eared, droopy eyed dog of her own for quite some time. She had Basset Hounds as a child, and while I grew up with hounds was early on interested in the Bracco through my NAVHDA program. We already had German Shorthair Pointers.
An Italian immigrant who was importing Spinoni and Bracchi told me that the Bracco was not worth importing as they were handsome but not good for hunting. That was some 25 years ago and back then I did honestly believe him as the Spinoni that were being assessed by the program NAVHDA to some degree lacked the required hunting skills. Mind you, over the years the Spinone has made great progress in North America to become an excellent hunting dog indeed.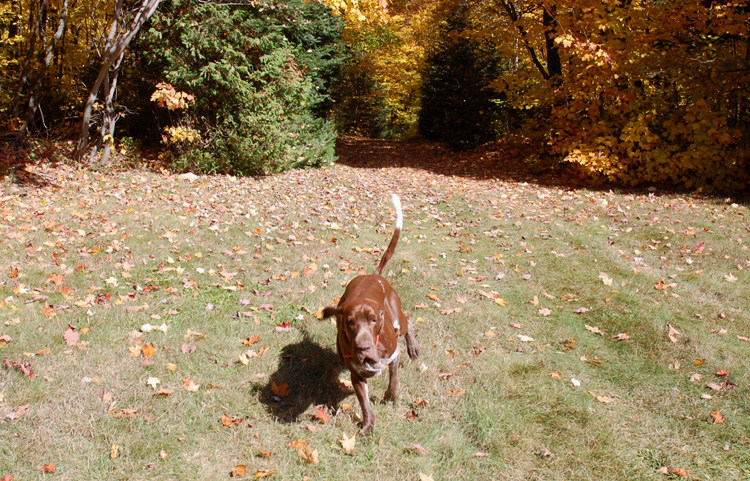 Above and below: Canes Venatici Vigo.
Title photo: Niagara Dell'Angelo Del Summano, Miss Tea to her friends.
Anyway, the idea of buying a Bracco faded away until I saw one at an exhibition. I called my wife to come over and look at this breed - it was love at first sight. But following up we found very few breeders in North America. I made contacts in Holland and Belgium as I was working there part time one summer, and even there were few available pups.
Then lady luck struck: one day when I was judging, a fellow came into the test with a Bracco. Afterwards I asked him where the dog was from. In fact he had two Braccos and both came from m different breeders in the USA . The one in the truck, was 4 months old, eventually became ours at 9 months as the owner declared the dog did not hunt and he had no time for him. That was eight years ago. His registered name is Canes Venatici Vigo. At the
Bracco Italiano Club of America
(BICA) gathering 2011 in the USA he was judged best field dog.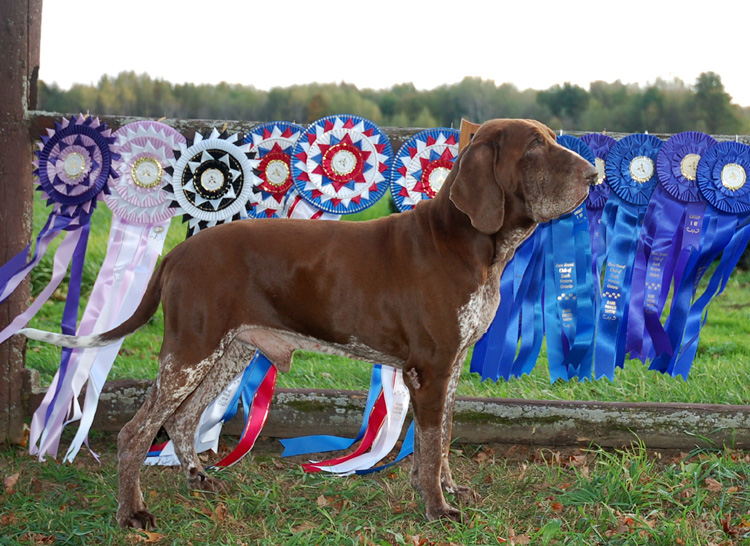 Canes Venatici Vigo, bred in the USA. He has a NAVHDA utility level 11.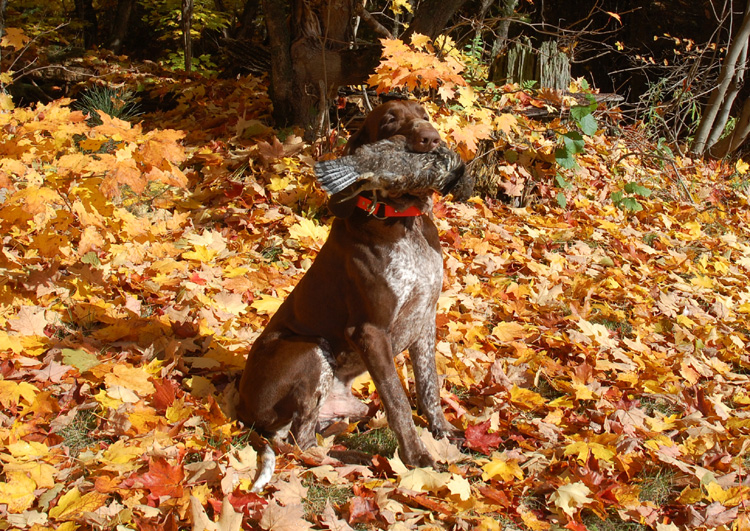 Vigo with grouse.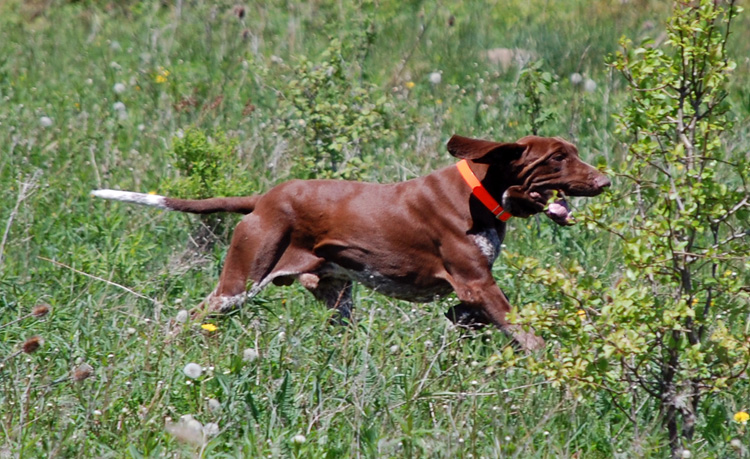 Vigo at a hunt test 2009.
Vigo is very heavy boned, roan in colour and at the upper limits on confirmation specifications. Still, he won three best in shows in Canada, but when taken to a Bracco Gathering was compared to a Bull Mastiff for his physical size. This confirms to me that the North American show judges know very little yet on the Bracco confirmation.
Vigo displays a very powerful "trotto spinto" that comes naturally to him and has not been induced by using a sling or braga as the Italians call it. By the way, he's shown in the book "Pointing Dogs volume 1 the Continentals" by Craig Koshyk.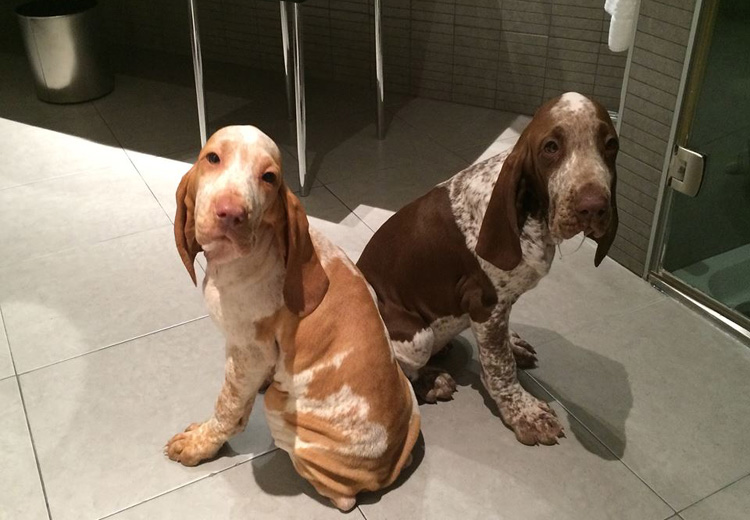 "Miss Tea" and her litter mate Lia in transit from Italy. (Photo: Valerie Kessler)
Through a friend and member of the Bracco Italiano Club of America (BICA) we have recently imported a beautiful female pup for us from Summano Kennel, in Vicenza, Italy, bred by Tranquillo Segalla to Mario Bencich's Tar. Her name is Niagara Dell'Angelo Del Summano and we call her Miss Tea.
She displays distinct similarities to our other Bracco. She learns very quickly and you cannot afford to make a mistake in teaching. I have found Braccos are gentle dogs in temperament who don't need harsh corrections and learn much more through positive reinforcement.
Miss Tea has just completed a Natural Ability test of NAVHDA receiving a prize I. Her only fault was showing her desire to swim.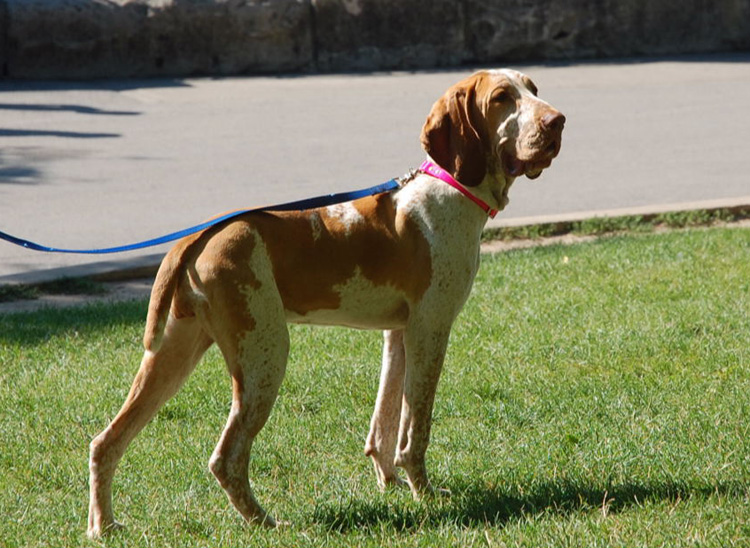 Above: Young Niagara Dell'Angelo Del Summano.
Below: Heather Hague and Niagara Dell'Angelo Del Summano walking past the Niagara Falls.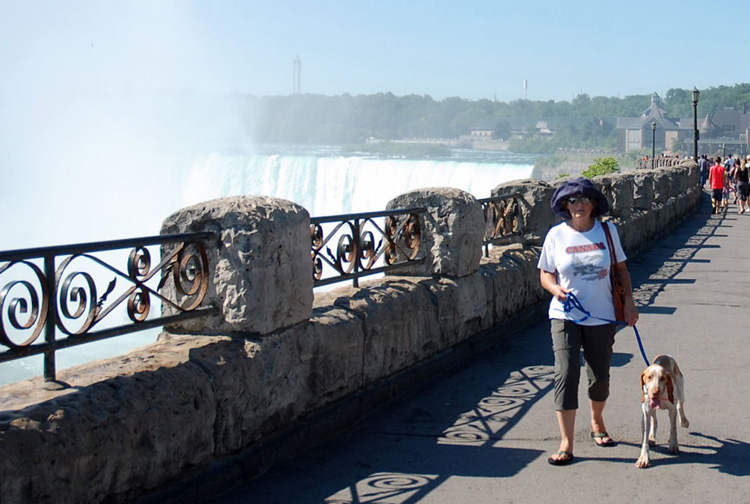 For the time being there are very few Bracchi in Canada, I guess less than 25. Canada is larger than the USA in size but the population is small compared to the USA and possibly even to Italy. My wife and I are members of the USA based BICA as we do not have a club in Canada and I believe that networking with an organization that supports your dogs is very important.
Talking about North America as a whole, the Bracco seems to have become popular in recent time, thanks to the establishment of the Bracco Italiano Club of America and magazine articles featuring the breed. Since getting our original male, I have had inquiries about the Bracco from several people asking where to get one, how they are as pets and how much they cost.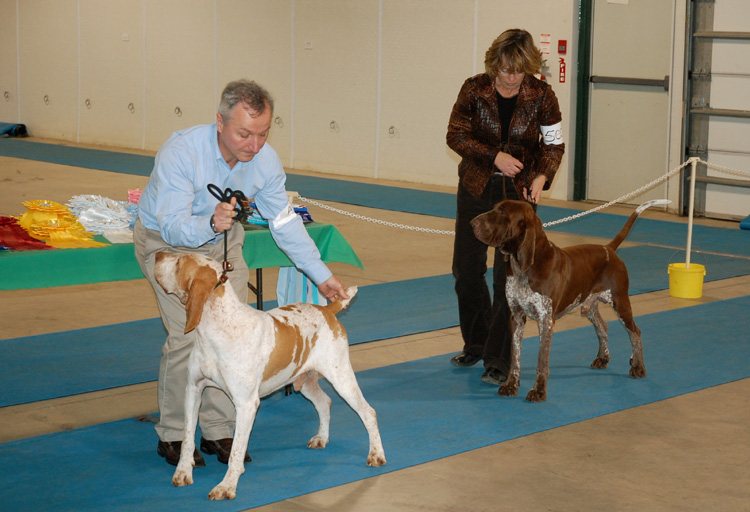 Alex, owned by Demitt Moore, and Heather Hague with Canes Venatici Vigo at a Canadian rare breed show.
There are currently less than 300 Bracchi listed in the NAVHDA registry, but it's worth noting that only the breeders or owners who might want their dogs to participate in the hunt test program would get them registered. It is interesting that our male was registered as the #113 Bracco in 2006, meaning there were only 113 Braccos in the registry at the time, now almost 300 are in the NAVHDA system.
Unlike the US breeders and owners which will be looking to have the Bracco recognized as a breed by the American Kennel Club, there are too few Bracchi in Canada and recognition by the Canadian Kennel club is many years away.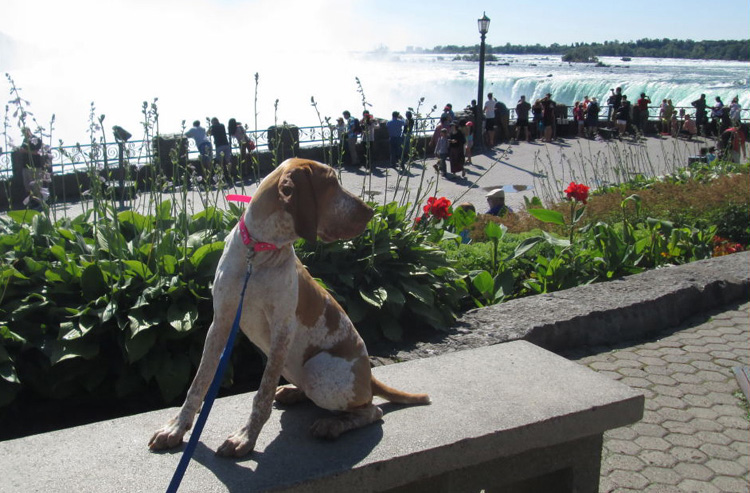 Niagara Dell'Angelo Del Summano watching the Niagara Falls.
Looking back at the statement that Italian immigrant made a quarter of a century ago about the Bracchi of his native country, I have to say I am blessed to have an excellent Bracco in my male. He has made me and many others believe that these dogs can hunt and be excellent companions.
Together we have hunted upland birds, that is grouse, woodcock, doves, pheasants, Hungarian partridge, ducks and geese, but also deer and bear. In Canada we drive deer and bear at the same time with blockers placed in position to shoot the escaping game. Vigo has been trained to do blood tracking on deer. He works much more methodical than my Kurzhaar.
He has been an brillant ambassador for the breed in North America and I hope in our selection of Niagara (Miss Tea), we get the same performance.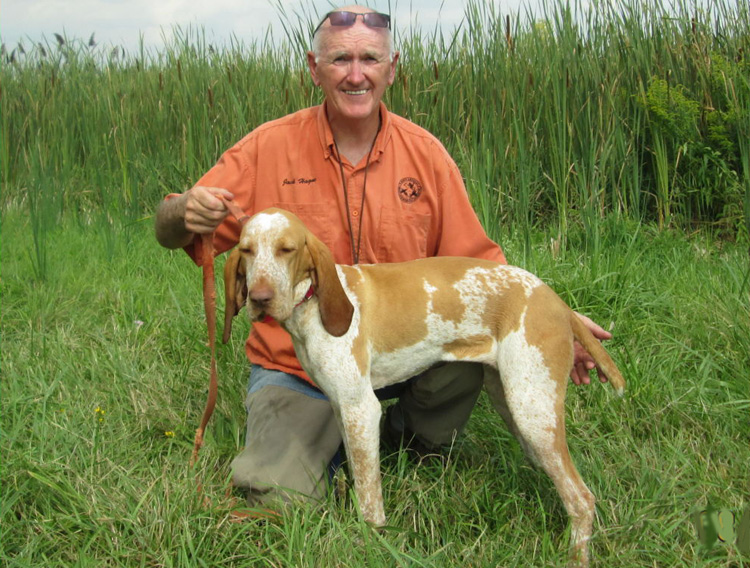 Jack Hague at a NAVHDA test of Niagara Dell'Angelo Del Summano, august 2015.
Below: Miss Tea stacked.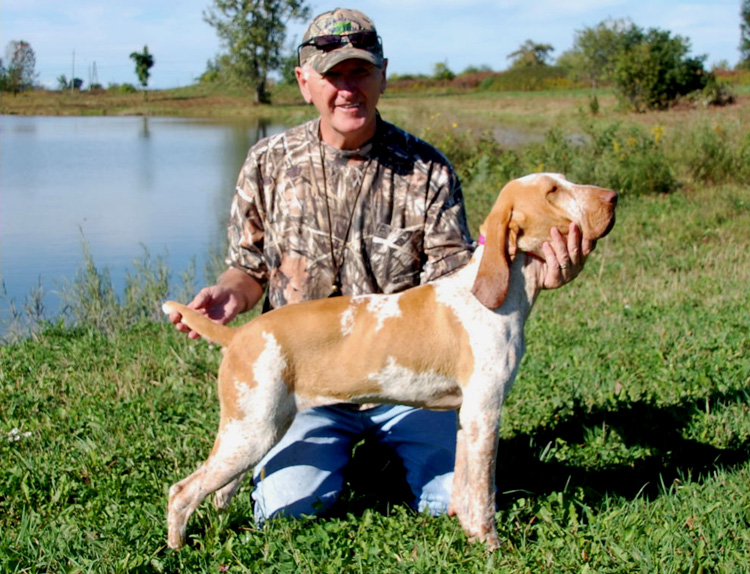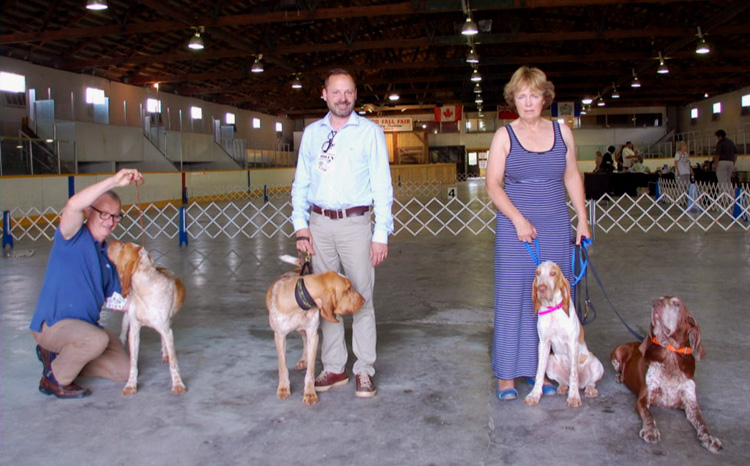 Dog show in Canada, july 2015. On the left two young imports from Italy, right Niagara and Vigo.
Photos: (c) Jack Hague
Text (c) 2015